How does a guy with a political science degree become one of the most trusted hands-on employees at Lane's End, dating back to the farm's very first days?
 
For Callan Strouss, it came down to a simple but powerful choice: Would he rather continue pursuing a law career or work with horses? It hardly qualifies as a spoiler to know what he chose.
 
"I worked in a law firm the summer before my senior year in college, and I hated it," he says. "I'd always worked outside, and that wasn't for me."
 
A native of Youngstown, Ohio and a graduate of Miami University in the same state, Strouss began his equine career in 1978 at Waterford Farm in Midway, Ky., which has since been purchased by Ashford Stud. There, working an entry-level position with mares and foals, he met Mike Cline, then manager of Big Sink Farm.
 
Among the boarders at Big Sink Farm was Will Farish, and when Farish bought the first 240-acre parcel of land that would kick-start Lane's End, he brought Cline with him to manage the new venture. Cline, in turn, invited Strouss to join the team as one of its initial members in 1981.
 
Forty-one years later, Strouss is the manager of Lane's End's Oak Tree division, a satellite operation that is itself nearly four times as large as that original property. Some of the sport's most important horses have been born or given birth under his watch, reaching back through generations.
 
Strouss has managed Oak Tree--a 1,000-acre property in Lexington, Ky., that Lane's End leases from the Niarchos family—since 1993. His duties primarily entail the oversight of mares and foals, but the ascent of Lane's End as a stallion operation is a story that cannot be told without his presence.
 
When Lane's End opened its stallion division in 1985, Strouss was in the truck that covered the East Coast to pick up and deliver the farm's initial three stallions. The recently retired Fit to Fight and Hero's Honor were picked up from trainer Mack Miller's barn in New York, while Bayard Sharp, Farish's father-in-law, contributed Dixieland Band from Maryland.
 
The foundation of the Lane's End stallion program was on that trailer headed for Kentucky. What Strouss couldn't have known at the time was that the trailer also held the lynchpin for arguably the most important stallion that Lane's End has ever stood.
 
"We also picked up Weekend Surprise," he says. "She rode in a box stall in the back by herself, and the retired racehorses and stallion prospects were in stall-and-a-halfs on the floor. That was the trip home."
 
Weekend Surprise, a Grade 3-winning daughter of Secretariat and a homebred for Farish and W.S. Kilroy, is best known as the dam of 1992 Horse of the Year, Hall of Famer, and legendary sire A.P. Indy, who stood his entire career at Lane's End. Named Kentucky Broodmare of the Year in 1992, Weekend Surprise was also the dam of Preakness Stakes winner and Lane's End stallion Summer Squall.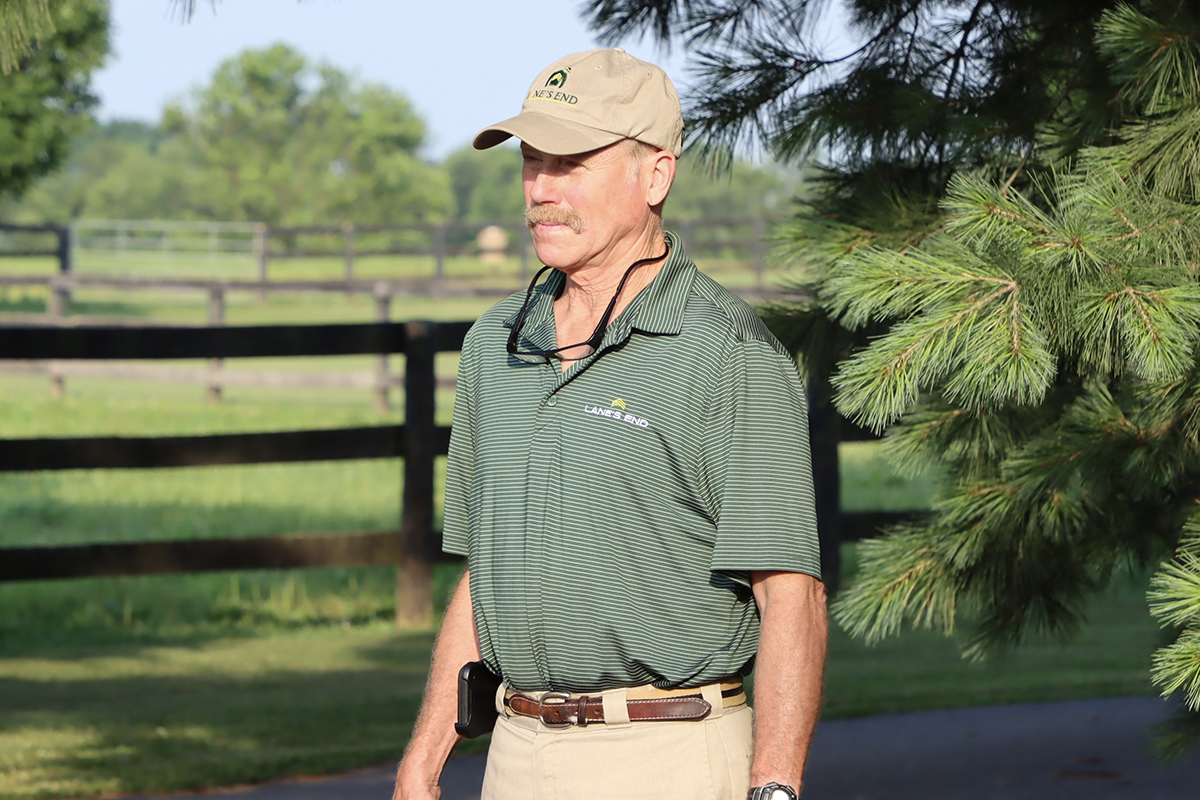 In addition to Lane's End mares, the farm's Oak Tree division houses mares and foals for the Niarchos family's world-class breeding operation. Strouss has, therefore, has had a hand in bringing some monumental horses into the world.
 
Among the vast roster of great horses that have spent time under Strouss' watch, he is quick to name Hall of Famer and two-time champion turf mare Miesque as a favorite. A Group 1 winner in France and England, the daughter of Nureyev raced just twice on U.S. soil, but both were victories in the Breeders' Cup Mile.
 
Miesque was set to retire to Lane's End following her second Breeders' Cup victory at Churchill Downs in 1988, and once again, Strouss was on one of the truck rides that defined the farm's direction going forward.
 
"I'm just assuming that we'll get a Sallee van to go get Miesque, and Mr. Farish said, 'No, you're going to go get her,'" Strouss says. "I implied from that that if something went wrong, he wanted to know. I took one of the lads, and we went and got Miesque from Francois Boutin, and she went to Lane's End."
 
The farm housed Miesque's dam, Pasadoble, and the family tree would continue to extend under Strouss' watch.
 
The most important branch might have been Miesque's first foal, the Mr. Prospector colt Kingmambo, who became a Group 1 winner in England and France. He would then become a flagship sire for Lane's End through the 1990s and 2000s.
 
Strouss knew Kingmambo before he became a household name.
 
"I've got a picture of me holding Miesque and Kingmambo as a baby, and he already looks like, 'I already know my lineage, and I know I'm going to be a big deal,'" Strouss says. "He was very confident standing there; a well-muscled first foal. It was really incredible."
 
Four decades with a farm full of deep female families means exposure to bloodlines through multiple generations. On-track greatness is the kind of thing that helps a bloodline survive, but Strouss says he also takes notice of the little genetic things that carry through, which might have nothing to do with the races.
 
If he'd have chosen the path toward law school, he might have missed them entirely.
 
"Today, I was with the blacksmith, and we looked at a yearling that's got some white hairs on his neck," Strouss says. "This yearling's by Karakontie, out of a mare named Dreams of Fire, and she goes back to Angel in My Heart. Those white hairs came from his grandmother.
 
"When you start thinking of families that you can go back--the stallion and the mare—and you've had their great grandmothers, and these families are going on and doing big things, you just look back and remember a lot of things."