Twirling Candy is following in his father's legendary hoofsteps at Lane's End Farm. A son of Candy Ride (Arg), Twirling Candy has sired 15 graded stakes winners and eight Grade 1 winners from eight crops of racing age. In 2023, Grade 1 winner Exaulted was victorious in the Shoemaker Mile (G1) and the American S. (G3) to remain undefeated on the turf and this year. His other stakes winners this year include Maker's Candy, winner of the Mike Lee S. and Ag Bullet who won the Lady of Shamrock S. on debut. He's also had stakes horses Gilmore and Tensas Candy.
In 2022, Twirling Candy saw success with his graded stakes winner Walkathon in the Regret S. (G3) and multiple graded stakes winner Pinehurst winning the Saudi Derby (G3).
Graded stakes performers in 2021 include Hollywood Derby (G1) winner Beyond Brilliant, Preakness (G1) winner Rombauer, Del Mar Futurity (G1) winner Pinehurst, Bob and Jackie winning the San Gabriel S. (G3) and Gear Jockey, winning the FanDuel Turf Sprint (G3). Other graded stakes performers include Dream Shake. Lifetime bloodstock sales of $1,950,000, $1,500,000, $1,075,000, etc.
Twirling Candy is out of the Chester House mare House of Danzig, making him a half-sibling to G2 winner Ethnic Dance. Multiple Champion Affirmed can be found farther down his page. Candy Ride has already shown a remarkable affinity for the Storm Cat branch of the Northern Dancer line. Other branches of the Northern Dancer line to provide the dams of Candy Ride stakes winners are Sadler's Wells (sire of El Prado; grandsire of Medaglia d'Oro and Kitten's Joy), Nureyev (from a mare by Theatrical), Danzig and Dixieland Band. Candy Ride has found success with a wide variety of mares by stallions that descend from the Nasrullah line, with three stakes winners from mares by In Excess, as well as stakes winners out of mares by In Excess's son, Indian Charlie, and Cozzene. Candy Ride is out of a Mr. Prospector-line mare, and Twirling Candy should cross well over mares from that line.
TWIRLING CANDY
RACE RECORD

AT 2
WON a maiden special weight race at Hollywood Park (7 fur., in 1:22.12, defeating Nextdoorneighbor, Brace Yourselves, Boulder Creek, etc.).
AT 3
WON Malibu S. [G1] at Santa Anita (7 fur., in 1:19.70, NTR, defeating Smiling Tiger, Caracortado, Alcindor, etc.), Del Mar Derby [G2] at Del Mar (1 1/8 mi., turf, in 1:46.96, by 3 1/4 lengths, defeating Jairzihno, Royal F J, Fantastic Pick, etc.), Oceanside S. at Del Mar (1 mi., turf, in 1:34.69, by 2 1/4 lengths, defeating Macias, Gallant Gent, Just Magic, etc.), a race at Hollywood Park (6 1/2 fur., in 1:15.08, by 7 3/4 lengths, defeating Thomas Baines, Just Magic, Pinal, etc.).
AT 4
WON Strub S. [G2] at Santa Anita (1⅛ mi., in 1:46. 53, by 4 1/2 lengths, defeating Tweebster, Make Music for Me, Indian Firewater, etc.), Californian S. [G2] at Hollywood Park (1 1/8 mi., in 1:50, defeating Setsuko, Aggie Engineer, Soul Candy, etc.), 2nd TVG Pacific Classic S. [G1] at Del Mar (1 1/4 mi., turf, to Acclamation, defeating Stately Victor, Game On Dude, etc.), 3rd Hollywood Gold Cup H. [G1] at Hollywood Park (1 1/4 mi., to First Dude, Game On Dude, defeating Setsuko, Awesome Gem, etc.).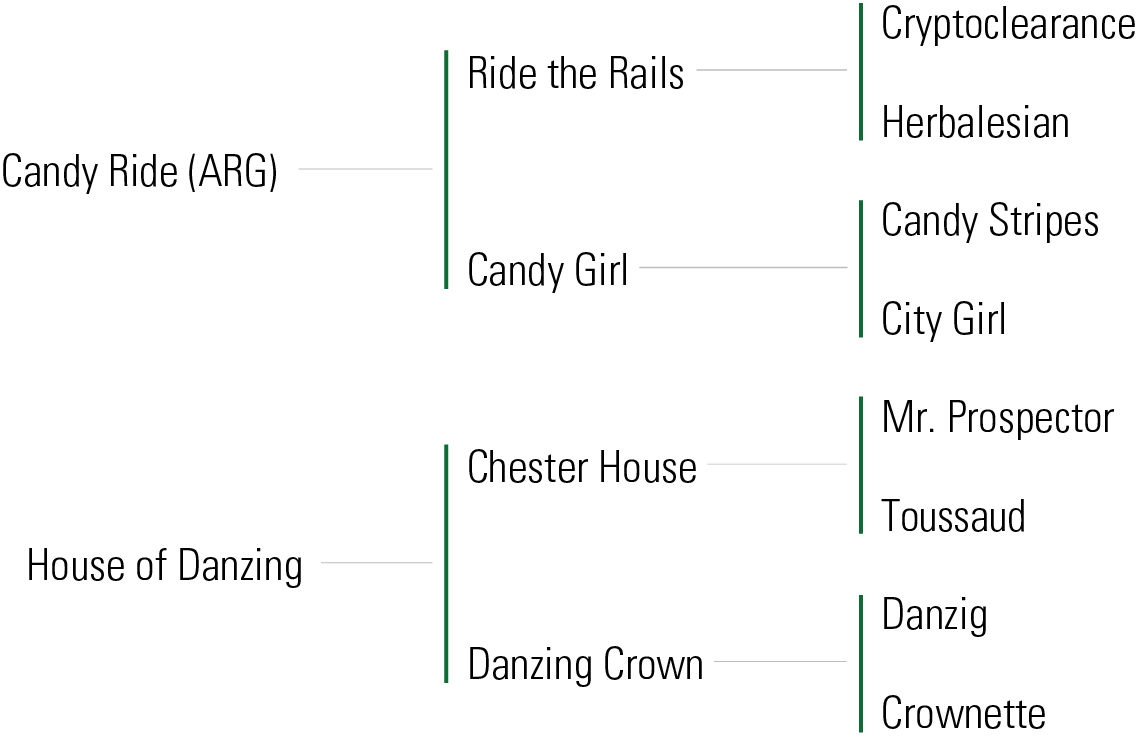 Catalog Style Pedigree