It can often take years for breeders to discern which broodmare pedigrees and physicals work best with a stallion to produce elite runners. Judging by the returns in 2021, Tommy Wente of St. Simon Place needed just a fraction of the time to crack the code with Connect.
Wente's program was responsible for arguably the two best runners from Connect's freshman season, in Grade 1 winner Rattle N Roll and Grade 3 winner Hidden Connection. Both graded winners were born at the Lexington, Ky.-based St. Simon Place, out of mares with modest pedigrees, produce records, and sale prices when the breeder acquired them.
This, Wente said, is where the common traits end. The pedigrees of Rattle N Roll and Hidden Connection are completely different on the female side of the family, and Wente said the mares didn't look alike at all.
If Wente cracked the code with Connect, he'll be the first to admit it wasn't on purpose.
"There's no method to the madness for what I'm doing, and I try to tell everyone that," he said. "I'm not going out there and thinking I'm knowing what I'm doing. I'm staying within the realms of what works, as far as nicking. I try to breed the mares to stallions that I know are compatible, and then you're doing your physicals and all that. They were two different-looking mares, and we had so much good luck. I'm breeding five back to him this year, and I'm hoping I can recreate it."
The two broodmares that helped elevate Connect's freshman season were purchased for a combined $29,500: Jazz Tune, the dam of Rattle N Roll, was secured for $20,000, while C J's Gal was a $9,500 purchase.
Wente said he was a fan of the top commercial sire Curlin, which made his Grade 1-winning son Connect a prime candidate for the mares. While many of Curlin's offspring tend to flourish at longer distances and mature later, Wente was drawn to Connect's precocity as a miler with speed.
Though Connect was a Grade 2 winner around two turns, his two most impressive victories were his gutsy score against older competition in the G1 Cigar Mile Handicap and his 4 ¾-length demolition of the G3 Westchester Stakes.
However, Wente was also realistic about his stock, and the economics of placing mares wisely relative to their price point. From that standpoint, Connect was a bit of a stretch, but the opportunity to be part of his first book of mares was too good to pass up.
"We were new to the business; we couldn't afford to go to the big, proven horses, because I didn't think my mares were good enough," he said. "You've got to understand, I bought C J's Gal for $9,500, and Jazz Tune in foal for $20,000. You're not going to sit there and spend $40,000, $50,000, $60,000 on a stud fee for them. I thought Connect was a lot for me personally, because he was $20,000 when he first stood, but he was a first-year horse, and I just loved everything about him."
Rattle N Roll was the third foal out of Jazz Tune, a winning Johannesburg mare who Wente bought in-foal to Mineshaft. After breaking his maiden at Churchill Downs as a juvenile, Rattle N Roll dominated the G1 Breeders' Futurity at Keeneland, drawing off in the stretch to win by 4 ¼ lengths.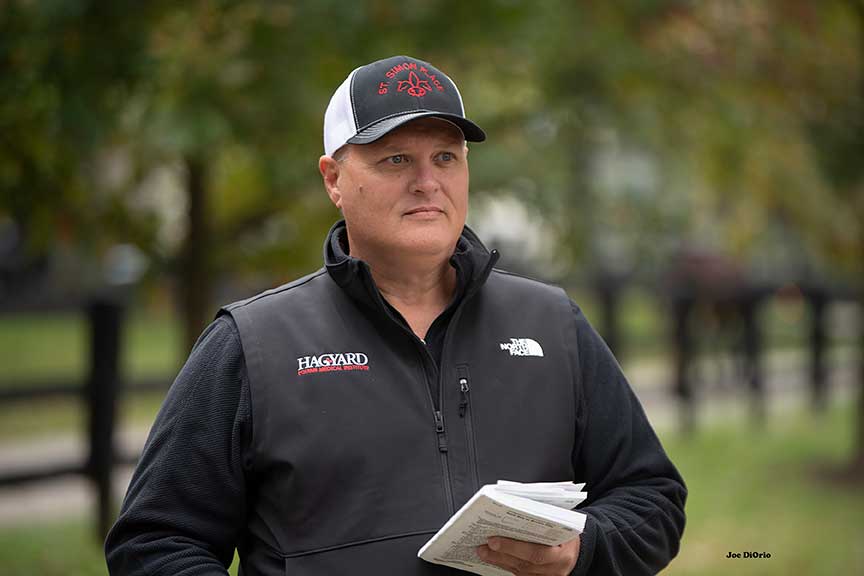 Wente sold the colt as a weanling for $55,000 at the 2019 Keeneland November Breeding Stock Sale, and he said the feeling of seller's remorse was immediate. He knew Rattle N Roll would go on to be a good runner, but he didn't expect it to happen so soon.
"I was absolutely shocked," he said. "[Jazz Tune's] babies are just so late-maturing. They just need time to grow, because they're kind of awkward looking. If you looked at Rattle N Roll as a 2-year-old, you'd think, 'This horse is going to grow. He's going to get way bigger.'"
That notion tracked for foals out of Jazz Tune, who Wente described as a lanky mare with some crookedness in a knee that a correct stallion would need to work against for the resulting foal.
A Virginia-born product of the vaunted Edward P. Evans breeding program, Jazz Tune didn't break her maiden until May of her 3-year-old campaign. The extended family includes Grade 1 winners Another Review and No Review, but it takes some digging in the pedigree to find them.
Jazz Tune's modest status when she met Connect ended up being beneficial for St. Simon Place's commercial fortunes in the long-term, even if they seemed harrowing in the short-term. The mare was offered with Rattle N Roll in-utero at the 2018 Keeneland November sale, and she finished under her reserve with a final bid of $55,000. Three years later, following her star foal's Grade 1 success, Jazz Tune sold pregnant to Liam's Map for $585,000.
Though it was hard to let a young Rattle N Roll leave his care as a weanling, Wente conceded that the colt might not have reached his lofty status had he ended up with connections other than trainer Kenny McPeek and owner Lucky Seven Stable.
"These babies have to get into good hands," he said. "It's just the nature of the beast."
Hidden Connection was the second foal out of C J's Gal, an unplaced daughter of Awesome Again.
Racing for the partnership of Hidden Brook Farm and Black Type Thoroughbreds with trainer Bret Calhoun, Hidden Connection won on debut at Colonial Downs, then shipped to Churchill Downs to crush the G3 Pocahontas Stakes by 9 ¼ lengths. She finished her juvenile season with a fourth-place effort in the Breeders' Cup Juvenile Fillies at Del Mar.
Her 3-year-old campaign has thus far been highlighted by the G2 Fair Grounds Oaks, where Hidden Connection pushed champion Echo Zulu to the limit, and was second by a nose.
C J's Gal was a broodmare prospect when she was purchased by St. Simon Place at the 2016 Keeneland January Horses of All Ages Sale. Where Wente described Jazz Tune as a lankier mare, he said C J's Gal was a more compact horse who passed that on to Hidden Connection.
Wente initially offered Hidden Connection as a weanling at the 2019 Keeneland November sale, where she was a $49,000 RNA. He parted ways with the filly a year later at the Keeneland September sale for $40,000. She later sold as a 2-year-old for $85,000.
"I watched her work at OBS, and I thought she could have some precocity," he said. "They took her to a few 2-year-old sales, and she got better as the year went on."
C J's Gal is herself out of a multiple graded-placed mare in the Mizzen Mast daughter C J's Leelee, who is a sibling to Grade 1 winner Capo Bastone.
C J's Gal ended up becoming another windfall for the St. Simon Place operation. From a modest purchase price of $9,500 as a broodmare prospect in 2016, she commanded $450,000 pregnant to Frosted at last year's Fasig-Tipton November Sale.
Though he might not claim to have the secret sauce, Wente said he was a big believer in the cross that produced Hidden Connection.
"It hits," he said. "I'd advise anyone that has a mare from the Deputy Minister line [C J's Gal's paternal grandsire] to go right back to Curlin, because it works."