Lane's End Employee Peter Sheehan's New Role
When Peter Sheehan arrived in Kentucky from his native Ireland in 2008, he was planning to work for a year at Lane's End before departing to explore other parts of the world and the Thoroughbred business, having targeted a stint in Australia as a primary goal.
Yet more than a dozen years later, Sheehan has completely changed course. He no longer thinks of moving on, and instead is seizing the chance for moving up—in a big way—at Lane's End.
After working with mares and young stock and then serving as the farm's yearling manager for the past eight years, Sheehan will advance to become manager of the globally prominent Lane's End stallion division following the retirement of Billy Sellers, who has been a farm mainstay for nearly 40 years.
While the soft-spoken Sheehan is keenly aware of the industry prominence of his new role, he is focusing solely on the details of the role he takes on in late September, describing himself as a man who prefers to "stay under the radar as much as I can, just keeping my head down and working."
"You always want to go and be at the pinnacle of the industry, and I don't think there's a better place to be than to be the stallion manager at Lane's End Farm, one of the best stallion operations in the world."
After the last horse left the ring at the Keeneland September Sale, to which Lane's End consigned 140 yearlings, Sheehan looked ahead to his next phase in a journey that's taken him far from the tasks he initially shouldered as a teenage labourer.
"You always want to go and be at the pinnacle of the industry, and I don't think there's a better place to be than to be the stallion manager at Lane's End Farm, one of the best stallion operations in the world. It doesn't get much better than that," Sheehan said. "I started out at the bottom, weed-eating. You think about, and you dream, that you might one day get to the top, but for it to really happen is truly special."
Sheehan was virtually born into the world of breeding and racing. His father was raised on the grounds of Owenstown Stud in Maynooth, County Kildare, Ireland, a college and Thoroughbred nursery area about 15 miles outside Dublin, where his grandfather served as both gardener and horse caretaker.
"I've always been around horses," Sheehan said, recalling his youth in Maynooth. "Horse racing was always on the TV on the weekends and I went racing with my parents and my grandfather. It's always been part of our lives."
Thus, it was a fairly natural progression for Sheehan to begin his working life as a farm hand at nearby Derrinstown Stud, the Irish base of the Shadwell empire forged by the late Sheikh Hamdan bin Rashid al Maktoum of Dubai.
"I started off weed-eating, painting fences, mowing grass and those sorts of things the summer I turned 16. Then I went back to school and did some horse work on the weekends," he recalled.
Over the course of seven years while he completed school, earning a bachelor of arts degree in geography and math and later a higher diploma in statistics at the Maynooth branch of the National University of Ireland, Sheehan worked at Derrinstown. And the more he was around the horses, the more they inspired him.
"I got the bug," he admitted with a chuckle.
"I spent time in each department at Derrinstown, working with mares and foals and yearlings. I did a little bit with the stallions, but I was more with the mares and the yearlings.
"It's a fabulous operation. Sheikh Hamdan was a great boss. He really took care of all his staff, and it was a shame to see him pass away this past year. He was a true gentleman and great boss to everybody who worked for him," Sheehan said.
After finishing his graduate work, however, Sheehan decided to try something new, accepting a teaching job at the International School of Choueifat in Sharjah, the neighboring emirate of Dubai. Rather than handling young horses, he spent a year directing the math education of third, fourth and fifth graders whose families were from around the world.
"It was a great experience. I loved my time over there and it afforded me time to go travel. Anytime we had a few days off from school, we hopped on a plane and went somewhere exotic. We took trips to Oman, Jordan, Thailand, Kenya and Sri Lanka," he said.
"But after a year of teaching kids, I decided I preferred horses," he added before noting some similarities in job skills. "You need a great deal of patience with both. In both careers, you need to be patient and take your time and work with the individual if you want to succeed."
Returning to Ireland and Derrinstown, he worked for a year as a full-time staff member before again feeling the urge to see more of the world.
"I said to my manager there, Jimmy Lenehan, that I wanted to go and do some traveling and experience the industry in Australia and America. He recommended that I go to America first; he thought America was the most important place to go. 'You have to do your time in Kentucky if you want to succeed in this industry,' he said.
"So, he set me up with Lane's End. He was the roommate of Callan Strouss (manager of Lane's End's Oak Tree division) when they were both young and working for Bertram Firestone, and they're still great friends to this day. Jimmy set me up with a job and asked if Lane's End would sponsor me for a year.
"I came over with the intention of staying for one year and then going traveling again, but one year has turned into 13, so far," Sheehan said, crediting the horses and farm management for encouraging him to stay.
"Lane's End is great—it is a top-class operation and they look after their staff superbly well," he said.
In supervising the yearlings raised on the farm and working with those that Lane's End consigns to sales for clients, Sheehan has had the opportunity to be hands-on with some of North America's best horses of their generations.
Highlights he fondly notes include the seven-figure horses Lane's End has sold and, particularly, the horses raised on the farm who have surged to glory in racing.
"You always love to sell the million-dollar horses. They're always exciting, and when you have those seven-figure horses, you feel so proud. You know all the hard work the guys in the barns have put in throughout the year and their love for the horses, so to see them get rewarded with a high-priced horse in the ring and to see their excitement, I love that," he said.
Some of the more recent headline-making horses to have emerged as seven-figure graduates from Lane's End consignments include multiple graded winner Spielberg, by Union Rags and bred by G. Watts Humphrey, and the scintillating Flightline, a son of Tapit bred by Summer Wind Farm, who appears headed for stardom.
Yet Sheehan emphasized that the main goal with yearlings at Lane's End is to develop racehorses, and he pointed particularly to the high-level achievements of graduates who were three-year-olds in 2019.
"We get excited by having big-price yearlings, but it's really rewarding when they go on and succeed at the racetrack.
"We had, in the 2019 Kentucky Derby, (eventual first-placed) Country House and (runner-up and William S. Farish homebred) Code of Honor. We also had Vekoma on the farm and War of Will, who was over at Oak Tree. We had so many horses in the Derby that year. That gives you great pride to have horses go on and do well on the racetrack—that's what we're all about.
"Code of Honor's Travers Stakes win is probably a highlight for most of us here. Just seeing him win a race that means so much to Mr. Farish, and in Mr. Farish's colors and being a homebred. That was a really special moment."
Sheehan's voice takes on an even more reverential tone when he speaks about champion Honor Code, who was bred by Dell Ridge Farm but later raised at Lane's End prior to racing for a partnership between the two farms that also included Teresa Viola Racing.
"The one that always sticks out in my mind as the best yearling that I've ever been around is Honor Code. When he came to the farm as a short yearling or weanling, he was a man amongst boys. And he was the first horse to go into Lane's End Racing.
"For him to be from the last crop of A.P. Indy, to have the pedigree that he has and to be the physical specimen he is—he was by far the best looking yearling I've ever been around. He just took everyone's breath away. And then for him to go on and be a multiple Grade 1 winner, that was exciting to see all of it come together," Sheehan said.
In one of the most rewarding aspects of his new post as stallion manager, Sheehan said he is eager to be reunited with Honor Code and some of the other horses he has worked with as youngers, including Catalina Cruiser, Gift Box and Unified.
"Just to take care of these great racehorses and stallions and to help with the next part of their careers—that's really exciting to me and I'm looking forward to being part of it," he said, noting that he leapt at the new job opportunity when Bill Farish offered it to him.
"I think Bill saw it as a very important job to the farm and he wanted someone from within who he trusted. He asked me one day if I would be interested and told me to sleep on it. I immediately said, 'Yes, but I'll go home and sleep on it just to be sure.'
"I was honored when he asked me because it's an important job to the farm, and for Bill to trust me with it meant a lot. If Bill wanted me to do it and trusted me to do it, I will be delighted and honored to do it."
He also credited the dedicated staff he has worked with, as well as all those he has worked for over the years.
"I'm very thankful to everybody here and everybody who has helped me along in my career to get here. From the guys at Derrinstown that taught me the basics to everybody here at Lane's End, Todd Claunch and Mike Cline and more—I could go on all day listing names, but if I did that, I'd forget somebody.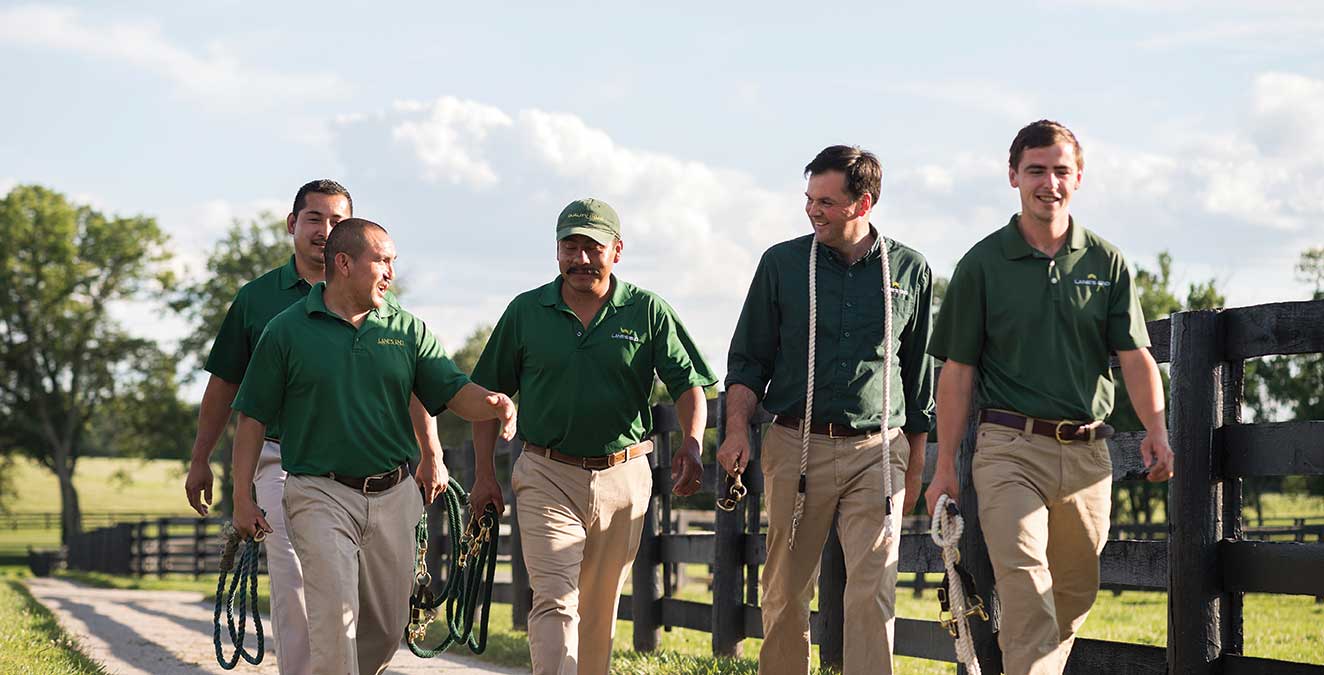 "And I wouldn't be where I am today without the guys here in the barns, all these guys who have worked with me throughout the years helping to get things done. They are a special group of guys and I think we've got some of the best in the industry here at Lane's End. They have the best interest of the horse in mind at all times, so it makes my job a lot easier and it makes me look good, but they're the ones behind it," he said.
Sheehan—who lives on the farm with his wife, Kate, a hunter-jumper rider who operates Taghadoe Bloodstock, and their daughters, fiveyear-old Sterling and three-year-old Lizzy, who share their parents' love of horses—said he doesn't plan on making any big changes in management of the stallions.
Sellers has pledged to be available at any time for help or advice needed, but he also has encouraged Sheehan to put his own stamp on the stallion operation. Sheehan, however, just wants to build on the 36-year record of success that his predecessor and Lane's End have achieved.
"It's gone well for many years under Billy's watch, and I'll try to keep everything in the same routine. We have a great staff of guys who have been doing this a long time. (A.P. Indy's longtime groom) Asa Haley just told me he will be there 25 years as of September. So, I am going to try to keep the routine as much as possible.
"Billy and the guys on the staff have done such a great job in managing the stallions that I just want to keep on. If I can do as well as Billy did, I'll be happy," Sheehan said.