With dramatic, high-tech innovations and fascinating new exhibits, the recently renovated National Museum of Racing and Hall of Fame brings history into the 21st century.
"What we have now is the most interactive sports hall of fame in the country," says Brien Bouyea, the communications officer for the museum founded in 1950 and located in Saratoga Springs, New York. "We're really excited about it."
With more than 450 racehorses, trainers, jockeys, and Pillars of the Turf among those enshrined by 2020, space was at a premium. Moreover, the presentation of information was static. The board of directors decided that the way to solve both problems was with an extreme makeover.
"We looked at a couple of options, including maybe building a second level like a mezzanine walk, but it didn't look feasible. So we said, 'You know what? Let's go digital.' And that gave us the advantages," explains Bouyea, who added the project took nine months to complete.
One of Thoroughbred racing's unique aspects is that jockeys and trainers can remain active members of the Hall of Fame for years, and in many cases, decades prior to retirement. Before the renovation, the information on each inductee's plaque was immutable. No more.
"When Mike Smith got into the Hall of Fame (2003), his plaque didn't mention anything about winning the Triple Crown with Justify (in 2018) or about riding the great Zenyatta (2008-2010). Now you can touch on his plaque and find up-to-date stats," explains Bouyea. "We have a content management system where we can manage it. Last summer when Steve Asmussen became the all-time leading trainer in the sport, the next day I was able to go into that CMS and update his information and people immediately saw it."
The nine new interactive stations also feature thousands of photographs as well as video clips, so they provide a total experience for museum visitors. Previously when visitors would tour, they might not have seen an early 20th century jockey's photo. Now, they can get a true sense of who he was and what his era was like.
The interactives are enlightening for the visitors, but they're only part of the wow factor.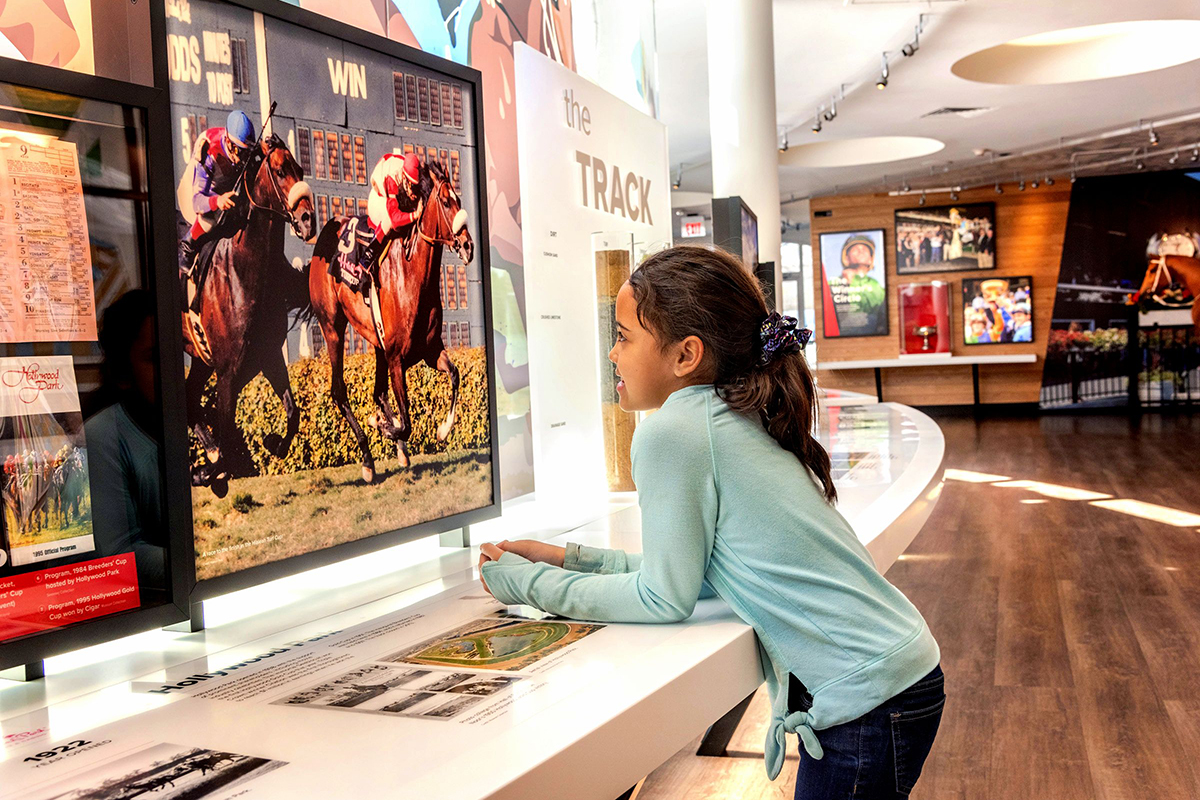 Now, every hour on the half hour, the museum's new signature film "What it Takes: Journey to the Hall of Fame", which was produced in 8k resolution, is shown. It's a 16-minute immersive experience conveying the passion, excitement, and rich heritage of this sport.
Narrated by the renowned Bob Costas and filmed and produced by Donna Lawrence Productions in Louisville, Kentucky, it features original footage from various racetracks and Thoroughbred farms around the country, plus interviews with Hall of Famers about their experiences in racing.
"The film is spectacular," says Bouyea. "If you like horses and if you like racing, you're going to be very impressed with it and it's going to bring out a lot of emotions.  It's also a great teaching technique for those just learning the sport. People become fans when they watch it. It's going to energize people when they see it. They're going to want to go to the track. They're going to want to learn more about breeding, about how horses develop and get to the racetrack, about what the life of a trainer and the life of a jockey is like. There is a lot packed into that 16-minute film. It's so well done, and it covers so many different angles, but it's not rushed. You have to see it to experience it. Everybody who has seen it has left with an invigoration for the sport."
There's more. Two exciting new exhibits will open this summer to coordinate with the July 14 opening day of the Saratoga meet, and they join a retrospective of 11 paintings of the late Richard Stone Reeves, who is arguably the most prominent equine artist, in the Link Gallery.
Featured will be a retrospective of the work of the redoubtable racetrack photographer Jim Raftery during his 50-year career. Daily Racing Form chief photographer and six-time Eclipse Award winner Barbara Livingston, the best of this generation, acquired Raftery's entire collection of tens of thousands of negatives and she coordinated with the museum to do justice to his remarkable career.
The other new exhibit is termed the biggest of the year.
Called "Betting on America", it takes an in-depth look at all the Hall of Fame members who were born outside of the United States. It details the foreign-born horses and the careers of these people through memorabilia, artwork, and first-person interviews where they tell their own stories about what it took to be among the 1 percent of the sport's participants who eventually make it into the Hall of Fame.
Even better, it's presented in English and Spanish and is the museum's first bi-lingual exhibit.
"If you saw the old museum, it isn't anything like what we have now," says Bouyea. "This was a labor of love. Now we have this great showcase, and it really draws people in. It's reinvigorated the museum and it's a big drawing card in Saratoga. The reaction across the industry is positive and everyone's excited."