Once called 'the glue that holds everything together' by stallion manager Peter Sheehan, Lane's End's Alys Emson currently works in a client management role but has done a little bit of everything during her 23 years at the farm.
"My job has sort of morphed into what has been needed; I feel like I have just filled the gaps along the way," Emson said. "Ultimately, I keep our clients up-to-date with evaluations and updates on their yearlings and foals."
Her rise to the client management position hasn't been a straight path through the Lane's End ranks, with Emson having left the farm for a few years before her return in 2003.
Emson had caught the horse bug early on, with both her grandmothers fostering her love of horse racing. She joined the industry as a teenager while attending a boarding school in England and, as soon as she graduated, made her way to Newmarket. That turned into a trip to work in France at Haras Du Quesnay for six months before she traveled to Kentucky in 1994.
"I am a military child, and my parents were overseas a lot," she said. "Although I went to boarding school at the age of nine, travel was very normal to me from an early age. I wanted to gain experience in other countries and see more of the world."
That led Emson to working for four years at Lane's End, where she worked in various areas of the operation, including two seasons working with the stallions. She also joined Neil Howard's team at the track for a winter before returning to England.
Emson decided the U.S. was where she wanted to continue her career after her stint as an assistant stud groom at renowned breeder Gerald Leigh's Eydon Hall, and she made her return to Kentucky. It was still a few years before she'd be back at Lane's End, with Emson spending three years working at Crestwood Farm.
In 2003 she returned to Lane's End and has been there ever since. A regular sight around all divisions of Lane's End, Emson plays a large part both in the farm's social media presence and keeping clients updated on their horses.
"All our clients have webpages on their horses, so I make sure they have all the information and media they need," she explained. "We live in an age that is far more visual than it was 20 years ago. So, I try and keep our clients supplied with plenty of photos and videos so they feel more connected."
During foaling season Emson starts her day at 6:30 a.m. with a visit to the foaling barn to check on any new arrivals. Her schedule will then vary; some days she may be showing clients around the farm and others she may be inspecting horses or sending updates.
It isn't unusual to see her out in the fields taking photos, videos, or even flying a drone to create content for clients and social media followers alike.
"I spend quite a bit of time out in the foal paddocks and fields taking photos and videos and making notes," Emson said. "I also do a lot of the social media which appeals to my creative side, so I try to make it as fun as possible but also educational to the fans."
Emson is also heavily immersed in Lane's End sales. One of her duties throughout the year is conducting yearling inspections and sales placement as part of the sales team, so she is intimately familiar with the Lane's End horses going through the ring.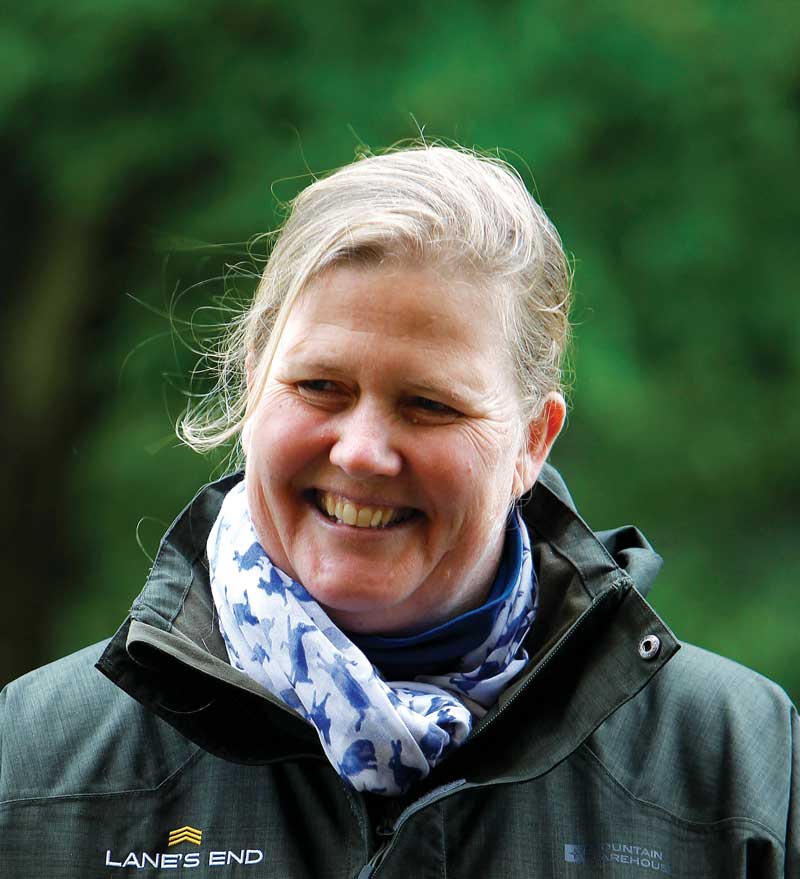 After 23 years at Lane's End, Emson said she can't name a favorite part of her job, but that there is something she looks forward to every day when driving through the gates.
"Just coming to work every day at a beautiful farm like this is a privilege especially given what is going on in the world today," she said. "I'm a morning person, so driving in at 6:30 a.m. and seeing the sunrise is probably my favorite part of the day."
As for her favorite memory at Lane's End, she said she can't pick between the equine ones, but that one human meeting comes straight to mind.
"There are so many big horse moments so picking a couple is hard after such a lengthy tenure," Emson said. "But I think in terms of a non-horsey big moment, meeting The Queen was huge. I also met the senior President Bush. It's an amazing business; you really get to meet some extraordinary people from all walks of life."
For those who want to work in the industry, Emson notes that you need to be passionate about the horses.
"It is long hours and can be really tough, but it is also incredibly rewarding," she said. "Be observant; paying attention to the horses and their wants and needs is really important. We are here to basically keep them happy and healthy. Regardless of what role you ultimately want to fill in this business, try and work in every sphere. You will have a better understanding and overall picture if you've spent time on the farm, at the sales and in racing."