Growing up in Santa Barbara, Cali., Jan Naify had always wanted a horse, but it wasn't until she met her husband Robert that the dream came true.
Both had an interest in horse racing and the couple decided to start a small stable named Ran Jan Racing when Robert's brother, Marshall Naify, died. Four of Marshall's yearlings kicked off their involvement, and two of those now enjoy pensioned life at Naify's Springtime Farm in Santa Ynez. In all, Naify keeps about 20 retired racehorses at the farm.
Naify says those early horses gave them the push they needed to purchase multiple graded stakes winner Cambiocorsa while the filly was in the midst of a seven-race win streak. She added a few more wins to the tally before becoming the foundation mare of their breeding program.
"The first four foals were all fillies and so our plan was just at that point to breed to race," she says. "We had them broken in Ocala then brought them back here to race and just had a lot of fun racing. When they were older and ready to retire, we sent them to Kentucky and they started breeding and they started having fillies and some colts. So, we've gone now through all of the generations."
Cambiocorsa made sure her owners continued to enjoy racing, producing four stakes performers from her first four foals. Only one of those didn't win at the stakes level, but in fact finished third in the Grade 1 Rodeo Drive.
That Grade 1 placer, Vionnet, would produce the horse Naify calls her most successful horse bred to-date in European Horse of the Year Roaring Lion.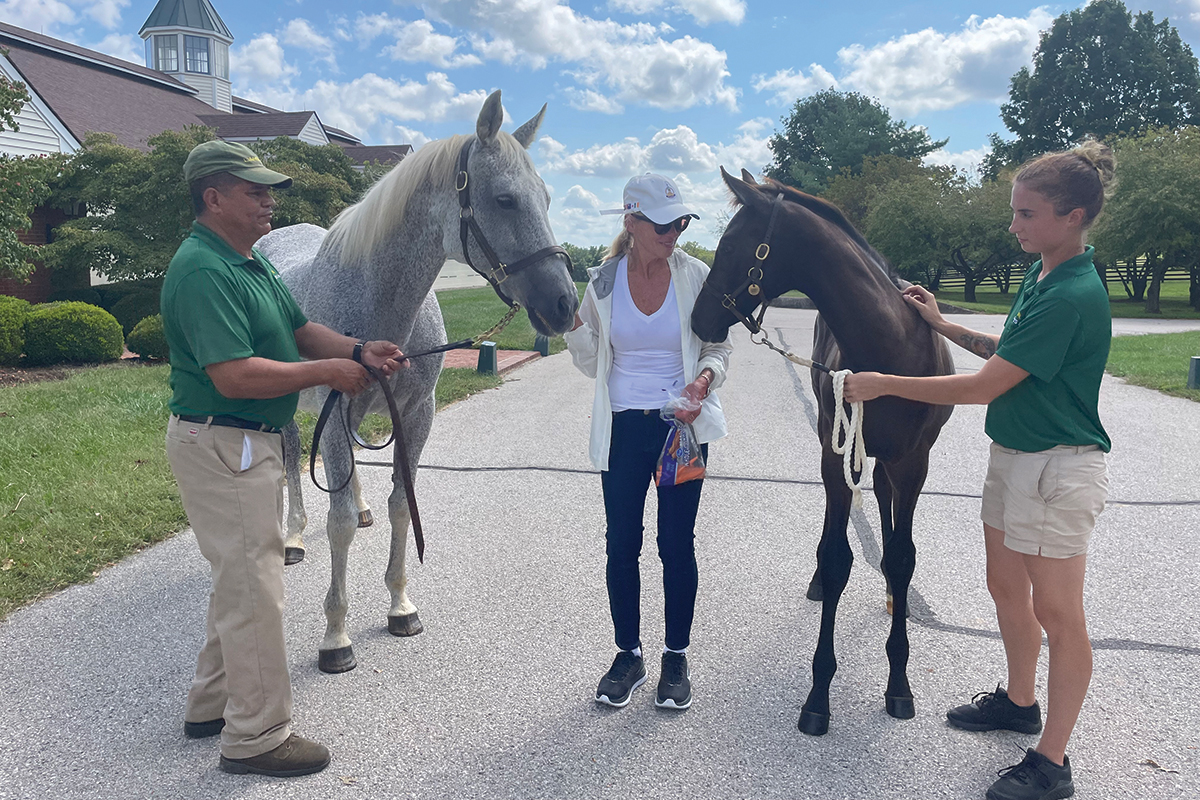 "[Cambiocorsa's] daughter Vionnet was probably my favorite to race and to keep here on the farm," she says. "She would come and go from the farm because she had foot issues. After leaving the farm she went and placed in a Grade 1 and I was extremely proud. Of course, she was the dam of Roaring Lion, who was the most exciting racehorse I bred."
After her husband Bob's death in 2016, Naify closed the racing stable to focus more attention on commercially breeding and her aftercare efforts.
"I sell three to four a year and a lot of that progeny has become quite well known; Roaring Lion and Monarch of Egypt, and a lot of good horses I was able to breed and sell," Naify explains. "I've also bought back and claimed quite a few. A lot of nice trainers out there along the way have helped me get these horses back and I send them to Margaux Farm in Kentucky to get them healthy. Then they go to my program at New Vocations and get adopted out to really great show homes."
Naify points to Lane's End and Bill Farish's commitment to aftercare as just one reason she boards there. She says the Lane's End staffs' love of the animal is another.
"The quality of workers, starting with Mr. Farish and the management and all of the grooms; they take such good care of, and they really have love, for the horses," she explains. "They have a great program; the horses get a lot of time outside yet they come in in the mornings and if there are any injuries or unsoundness it's dealt with early instead of leaving them out for four or five months. They're handled often. When they go to the sales, it's like they've been broken in already. Allaire Ryan does a fantastic job for all of her clients; I can't speak highly enough of the whole farm."
This year, Naify is making a return to the racing side of the industry. Most of her runners will be with trainer Dan Blacker but it's a Chad Brown trainee that Naify says she believes is the second-best colt she's bred after only Roaring Lion. The comparisons don't end there, with the 2-year-old Kitten's Joy colt being a three-quarter brother to that champion.
"I'm really excited about him, more than any horse I have this year," she says. "I feel like he is about to do something very special. A lot of people really wanted him. He was born and raised at Lane's End and everyone at Lane's End thought so highly of him. He's extremely intelligent. He has the most beautiful shoulder, hip, and eye and he's out of my Ghostzapper mare [Schiaparelli]. So, I'm very excited."
While Naify's plans still center around aftercare--her goal is to see every racehorse enter training with a $5,000 stipend to help in retirement--and commercial breeding, she is happy to have come full circle.
"I'm proud to be racing," she says. "I was out of it for a long time because I didn't like a lot of things that I saw. One of the main reasons I came back to Santa Anita is because of my friend Aidan Butler, how he has really taken ahold of these tracks and he looks out for the horse number one. I think it's going to be a great business going forward with the Horseracing Integrity and Safety Act. I think if we can clean up this business and take care of the horses, we will have a business again."