STALLIONS
A LIVING LEGEND: A.P. INDY TURNS 30
Fri, 03/29/2019 - 17:53
From the start, he was the chosen one. The best-looking yearling, the best pedigree. He came from one of the best farms in the Bluegrass and commanded attention at every turn of his young life. He got it.
But A.P. Indy, a product of Lane's End if there ever was one, would surpass even the loftiest of expectations. The sale topper turned Classic winner, the champion turned breed-shaping sire, A.P. Indy was a horse that defined a generation of Thoroughbreds. He was both the point and the counter-point. In an era where speed and fragility dominated, he was the royally-bred throwback who represented the Classic aspirations of kings and queens, of sheikhs, magnates and hardboots alike. A.P. Indy was racing's exciting future and glorious past, stood 16 hands high.
Today, on the occasion of his 30th birthday, we are proud to acknowledge A.P. Indy for what he is: a living legend.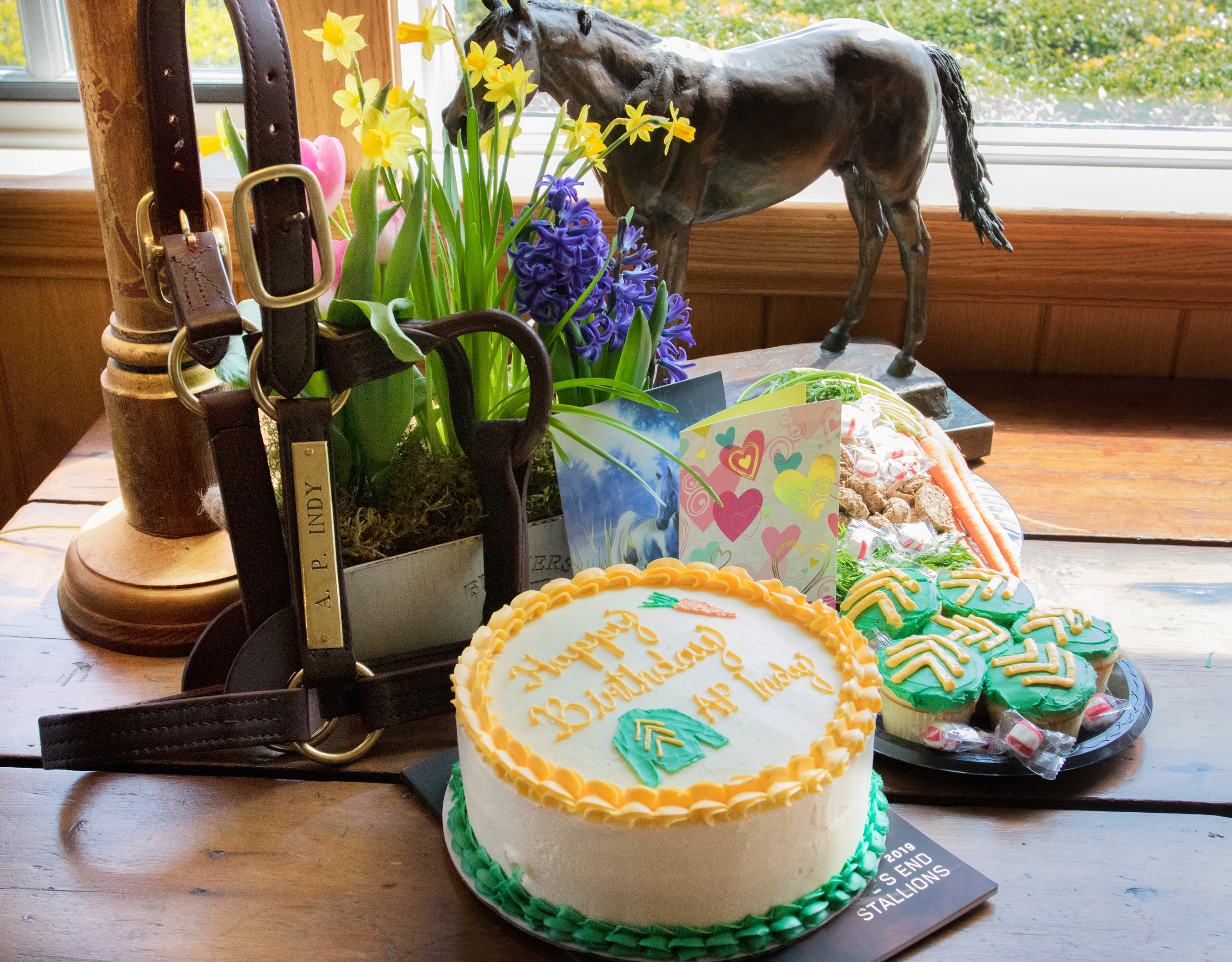 THE BEGINNING
A.P. Indy was born at Lane's End Farm on Mar. 31, 1989. Bred by Lane's End's owner, William Farish III, and William S. Kilroy, he carried, on each strand of genetic material, the stamp of greatness. His sire was the Triple Crown winner Seattle Slew, by then as much of a force in the breeding shed as he was on the track. A.P. Indy's dam was Weekend Surprise, daughter of another Triple Crown winner in Secretariat, and herself a major stakes winner. Champions and champion sires, on both sides of the Atlantic, appeared in this pedigree.
He had the looks, too. At Keeneland July in 1990, crowds gathered to look at this half-brother to Summer Squall, winner of Preakness S. two months earlier. With the discerning eyes of the world's best horsemen fixed on him, the imposing dark bay colt walked confidently with his head low. In the ring, bids flew. Hall of Famer D. Wayne Lukas made a push. Ultimately, he sold to BBA (Ireland) for $2.9 million. No yearling in 1990 brought more.
Tomonori Tsurumaki, a developer who recently had opened an IndyCar track in Japan, was the purchaser. Some months earlier, Tsurumaki had bought Picasso's "Les Noces de Pierrette" for $51.3 million. Now he had two works of art.
THE RACEHORSE
At two, while Arazi was moving on the field in the Breeders' Cup Juvenile at Churchill, A.P. Indy was out west, laying a foundation under the care of trainer Neil Drysdale. A win at Santa Anita, a win at Bay Meadows, a portent in the GI Hollywood Futurity. He later came east after beating Bertrando in the GI Santa Anita Derby, and history beckoned under the Twin Spires. But it wasn't meant to be. A quarter crack kept him from the Kentucky Derby.
A.P. Indy wasn't down for long. Eddie Delahoussaye, A.P. Indy's only ever pilot, guided him to a romp in the GII Peter Pan S. Then, just 14 days later, it was on to the race that defined A.P. Indy's maternal grandsire Secretariat and cemented his sire Seattle Slew's status as an all-time great.
Indeed, the Belmont Stakes was ready-made for A.P. Indy, with those big sweeping turns over a mile-and-a-half distance that showcased his stride—machine-like in its efficiency. In the end, A.P. Indy won the race in a manner that was both easier and harder than it looked. From the quarter pole on, victory was never in question. He didn't demolish the field, though. He simply accounted for his rivals' best and went one better.
"He's a horse that's deceiving," Delahoussaye said from the winner's circle. "You can be riding him, but he's still not really putting out as much as you want."
A.P. Indy, in other words, was toying with his competition. The final time of the race told a different story. At 2:26 flat, over a track labeled 'good', it ranked with Easy Goer's as the second-fastest Belmont in history. Only Secretariat had run faster.
A.P. Indy's foot was rested over the summer. After a dull effort in the Molson Export Million, he went favored in the GI Jockey Club Gold Cup. He stumbled badly, tore off part of his hoof, and finished a brave third. A.P. Indy came into the $3-million GI Breeders' Cup Classic with something to prove, another hurdle to clear. Drysdale had him right for the ninth renewal of the Classic, and Miami's skies were clear on that Halloween Day at Gulfstream Park in 1992. A field rich in talent had assembled for what was then the world's richest race. Shuffled back off a fast pace down the backstretch, A.P. Indy looked like a muscle car ready to drop a gear three furlongs out.
"A.P. Indy is finding his best stride, and he's moving powerfully between horses," announcer Tom Durkin exclaimed.
When daylight appeared, A.P. Indy barreled through, and Delahoussaye later recalled thinking, "This is it. It's all over."
It was. A.P. Indy romped clear, beating the Gold Cup winner—and future stablemate—Pleasant Tap by two lengths.
Remarkably, Delahoussaye never struck A.P. Indy with the whip. The colt won the 1 1/14-mile Classic in 2:00 1/5 under a hand ride.
He was retired shortly after the Classic, with eight wins from 11 starts. His earnings stood at $2.9 million, the same figure as a yearling price tag. The best, however, was yet to come.  
THE STALLION
Was A.P. Indy the last great sire of one century, or the first great sire of a new one? Without a doubt, he was a transitional stallion, one that began his career under one established system and concluded it under another. When A.P. Indy returned to his birthplace at Lane's End to stand his first season for a fee of $50,000, his first crop numbered just 45 named foals. That was 1993. In less than a decade, some stallions were covering books of 200 or more.
Lane's End never pushed on A.P. Indy. His biggest crop, in 2001, numbered 102 named foals. By the time he was pensioned in 2011, A.P. Indy had 1,224 foals—an average of just 68 per crop.
Regardless, A.P. Indy was perfectly effective in both systems. That first crop contained 13 stakes winners—an other-worldly 29% strike rate. Among them was Pulpit, the GII Bluegrass S. winner who would establish his own sire line through Tapit. The crop included three Grade I winners, too, all fillies: Royal Indy, Runup the Colors and Tomisue's Delight.
Over the next decade and a half, A.P. Indy would sire 156 stakes winners, a 13% strike rate. But the quality of his stakes winners really told the story. Eighty-nine were graded winners, 7% of his foals. There were 12 champions. Horses like Bernardini, who carried an air of greatness with him every time he stepped on the track. Horses like Rags to Riches, who defeated the great Curlin in an epic renewal of the Belmont, becoming the first filly to win the race in over a century. There was Lane's End's own Mineshaft, whose Horse of the Year season in 2003 included four Grade I victories—all by daylight.
From A.P. Indy's very last crop, foaled in 2011, came Honor Code, a horse whose last-to-first win on debut at Saratoga sparked dreams of conquest. Honor Code realized those dreams when carrying Lane's End's silks, he launched a similar move to win the GI Met Mile in 1:33 flat.
A.P. Indy was twice America's leading sire, in 2003 and again in 2006, and his sons and grandsons are carrying on his legacy. On the 2018 General Sire List, 16 of the top 75 sires in North America were tail-male descendants of A.P. Indy. Eight were sons of A.P. Indy himself. His grandson Tapit has led the list three times. 
As a broodmare sire, too, A.P. Indy has been outstanding. Delta Princess. Wait a While. Bolt d'Oro. Artemis Agrotera. Tempera. Game Winner. Plum Pretty. Cloud Computing. Bluegrass Cat. Super Saver. Any Given Saturday. All Grade I winners out of A.P. Indy daughters.
His impact at the sales was immense. In total, he had 374 yearlings sell for over $199 million. They averaged $533,391. Forty-nine times an A.P. Indy yearling made seven figures. Three times his yearlings topped Keeneland September, led by the stunning Mr. Besilu at $4.2 million, the highest-priced yearling in North American over the past 13 years.
Four times A.P. Indy was Keeneland September's leading sire by average. Three times mares in foal to A.P. Indy topped Keeneland November.
THE LEGEND
It's been nearly 27 years since A.P. Indy returned home to Lane's End, the farm where he was born. He was a 3-year-old then, it was late in the year, and in short order, he'd be named Champion Three-Year-Old Male and Horse of the Year. He already was an integral part of Lane's End's history and every day since he's become an even bigger part of our story.
Some of A.P. Indy's biggest successes were ours, too. Lane's End raced Honor Code and Mineshaft and the homebred Kentucky Oaks heroine Secret Status. Lane's End sold Rags to Riches. Just as importantly, some of our biggest supporters have enjoyed great success with him. Darley and Godolphin, Eugene Melnyk, Sam-Son Farm, Juddmonte, Stud TNT and Stonestreet Stables, among others, have all had champions or Grade I-winning homebreds by A.P. Indy.
In 2000, A.P. Indy was inducted into the Hall of Fame for his superlative racing career. But his biggest contribution to the sport came in the breeding shed. A.P. Indy is the primary torchbearer of the once-powerful Bold Ruler sire line. And as the lone son of Seattle Slew to carry on that great legacy through his own sons, he'll have influenced the breed for decades to come.
And what better tribute than that? To know that someday, young students of the game will see the name A.P. Indy, and they will think: Yes. He was one of the greats. He was the stallion that built Lane's End.
And to that, we say, Happy Birthday, A.P.